CAUTION:
Because the center pilot bearing is grease-sealed and is a non-lubrication type, do not wash with gasoline or solvents.
1. If there is damage or defectiveness in the facing sliding surface or ring gear, replace the flywheel.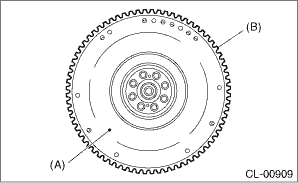 2. Smoothness of rotation
Rotate the ball bearing while applying pressure in the thrust direction.
3. If any noise or excessive play is noted, replace the pilot bearing.