CAUTION:
If the engine oil is spilt over exhaust pipe or the under cover, wipe it off with cloth to avoid emission of smoke or causing a fire.
1. Park the vehicle on a level surface.
2. Remove the oil level gauge and wipe away the oil.
3. Reinsert the oil level gauge all the way. Be sure that the oil level gauge is correctly inserted and properly orientated.
4. Pull out the oil level gauge again, and check both sides of the oil level gauge. Use a lower side to determine the engine oil level. If the engine oil level is below "L" line, check for oil leakage from engine and add oil to bring the level up to "F" line.
5. Start the engine to circulate the oil in engine.
6. After turning off the engine, wait a few minutes for the oil to return to the oil pan before checking the level.
NOTE:
• To prevent overfilling of engine oil, do not add oil above "F" line when the engine is cold.
• As the oil level gauge is used for daily maintenance, "F" line and "L" line is set assuming that the engine is cold.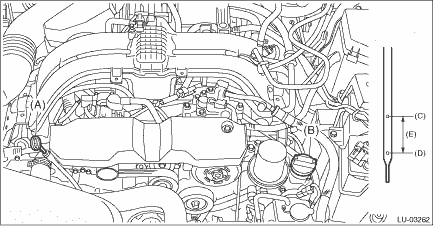 | | | | | | |
| --- | --- | --- | --- | --- | --- |
| (A) | Oil level gauge | (B) | Oil filler cap | (C) | "F" line |
| (D) | "L" line | (E) | Approx. 1.0 L (1.1 US qt, 0.9 Imp qt) | | |