1. COMMUNICATION FOR INITIALIZING IMPOSSIBLE
Communication error with SRF CM
DETECTING CONDITION:
• Defective harness connector
• Power supply circuit malfunction
• Defective SRF CM
• Defective CAN communication circuit
• Defective Subaru Select Monitor
TROUBLE SYMPTOM:
Communication is impossible between SRF CM and Subaru Select Monitor.
CAUTION:
Initialization is required after replacing the SRF CM.
WIRING DIAGRAM:
NOTE:
For the coupling connector, refer to "WIRING SYSTEM".
Front fog light system Front Fog Light System > WIRING DIAGRAM
Headlight beam leveler system Headlight Beam Leveler System > WIRING DIAGRAM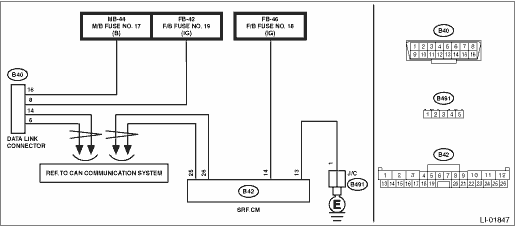 STEP
CHECK
YES
NO

1.CHECK OTHER COMMUNICATION.

Communicate with the system other than the SRF CM using the Subaru Select Monitor.

Is the communication to other control module possible-

Subaru Select Monitor > INSPECTION

Perform the "Communication for Initializing Impossible" of LAN system. Subaru Select Monitor > COMMUNICATION FOR INITIALIZING IMPOSSIBLE

2.CHECK LAN SYSTEM.

Inspect LAN system. Basic Diagnostic Procedure > PROCEDURE

Perform the inspection according to the diagnosis for LAN system.

Subaru Select Monitor > INSPECTION

3.CHECK FOR POOR CONTACT.

1) Turn the ignition switch to OFF.

2) Disconnect the SRF CM connector.

3) Connect the disconnected connectors.

4) Communicate with the SRF CM using the Subaru Select Monitor.

Is communication possible-

It is possible that temporary poor communication occurs.

Replace the SRF CM. Steering Responsive Fog Lights CM