1. Install the floor mat.
CAUTION:
If the hook - rear seat is disconnected from the vehicle body, make sure to replace the hook - rear seat with a new part to prevent the decline of the fixed force of the seat.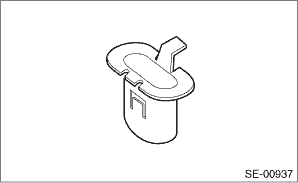 NOTE:
Secure the mat firmly with clips.
2. Install the pull handle cover.
3. Install the lower inner trim.
4. Install the console box assembly, the cover - shift lever and the panel center LWR.
Tightening torque:
Console box assembly: 6.5 N·m (0.7 kgf-m, 4.8 ft-lb)
5. Install the rear seat cushion assembly.
6. Install the front seat. Front Seat > INSTALLATION
7. Connect the ground terminal to battery sensor. NOTE